Fragrance & Cosmetics Coffret: Advent Calendar 2020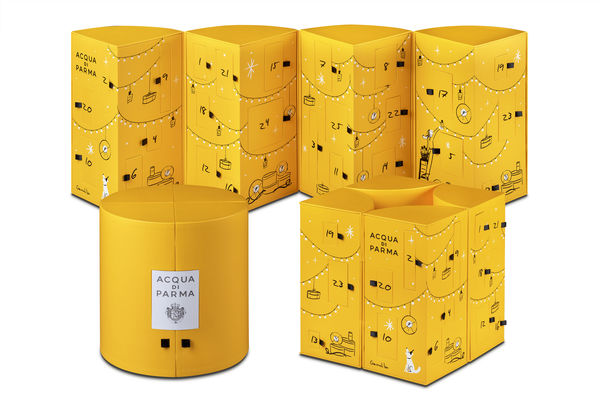 Brand: Acqua di Parma
Supplier: Knoll Packaging
The hatbox-shaped advent calendar unfolds into four parts to reveal the compartments housing mini-format products. The calendar required complex assembly and adjustment of numerous parts to create a continuous décor on all sides when fully opened. The alignment of the doors, the decoration registration and the resistance of the hinges over time were also paramount. The yellow paper is adorned with illustrations from Chinese artist Oamul.
What's innovative: Due to the calendar's cylindrical shape, a removable and reusable magnetic brand signature plaque was developed and placed flush with the surface.
What's green: The use of recycled gray board wrapped in FSC printed paper. The calendar can be recycled after removing the magnetic plaque and the two EVA foam platforms that support the heaviest products.